What is the salary in Private Equity?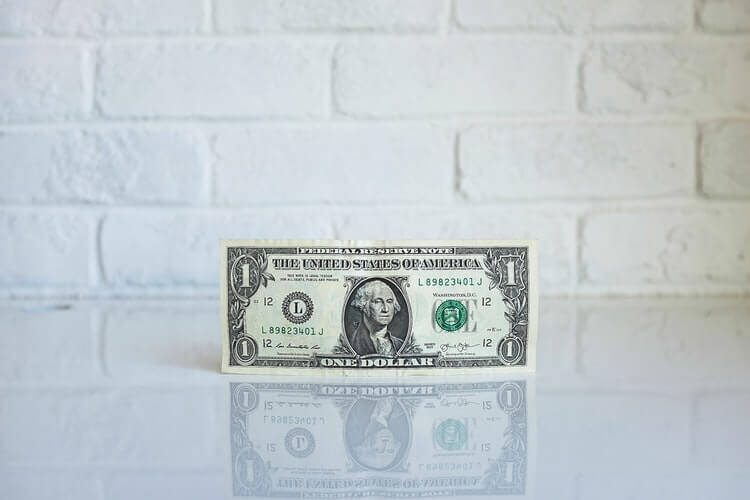 Private equity attracts many finance graduates every year. Their interest in this profession is often justified by the diversity of the missions, the stimulating nature of the investment process and also the prospect of an attractive salary. In this article, we have explored this last point in order to provide a global overview of salaries by level of experience in Europe and in the United States, the cradle of Private Equity. The different positions considered are those of: Managing Partners (the partners who run the fund), Principals (or directors) and Associates (with variable experience between 3 and 6 years). This analysis is based on the latest study by Heidrick & Struggles, an international recruitment firm. The firm conducts annual surveys on Private Equity salaries in various countries in order to provide an overview of salary trends.
Salaries on the rise
In 2021, the Heidrick & Struggles study reported that nearly half of the 439 professionals surveyed saw an increase of 21% or more in their fixed salaries. The recruiting firm attributed this rise in salaries to higher raises during the first half of 2021 and a significant number of transactions despite the pandemic.
Moreover, the fixed salary is not the only compensation component for private equity professionals. Investors' earnings are typically comprised of three parts:
a fixed monthly component,
an annual bonus typically based on individual performance,
a carried interest, which is a form of profit-sharing that is awarded to the Private Equity fund's teams based on the returns generated from a divestment, rather than a regular salary.
Read our article on the benefits of working as a private equity investor: Why work in Private Equity?
Salaries according to rank
Although differences in rank naturally result in a salary gap, there is a more rapid income growth in the early years of a career. In the Heidrick & Struggles study on European Private Equity salaries, Associates saw a 36% increase in base salaries compared to only an 18% increase for Managing Partners between 2019 and 2021. The difference is even greater when bonuses are taken into account, with a 22% increase for Associates compared to only 9% for Managing Partners.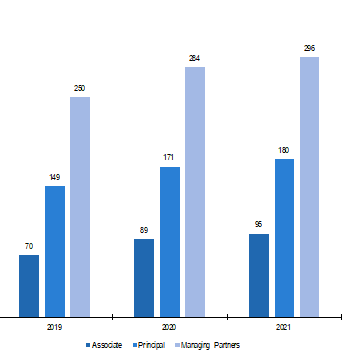 Fixed salaries (excluding bonuses and carried interest) in PE in Europe by grade (data in €k). (Heidrick & Struggles)
Salaries according to fund size
However, understanding the hierarchical structures and different types of bonuses is not enough to fully reflect the reality of salaries in Private Equity. To do so, it is also necessary to identify the factors that significantly influence compensation, such as the fund size and the scale of investments made, as measured by the volume of assets under management.
Fixed salaries + bonuses in €K, in PE in Europe by grade and assets under management. (Heidrick & Struggles)
*AuM for Asset under management. It corresponds to the total value of all financial assets under management.
Salaries according to investment strategies
The study also found that remuneration in private equity is influenced by the investment strategies of the funds. According to the study, the risk/return trade-off in a fund's investment strategy has a significant impact on the compensation of investment teams. For instance, managing partners of buy-out, distressed, co-investment, and secondaries funds are likely to receive higher salaries than those offered in fund of funds or growth funds. In particular, the former will receive higher bonuses and carried interest. However, this trend is less pronounced among principals and associates, as differences in strategy will mainly affect carried interest. The fixed remuneration for these positions remains relatively stable, and prospects for bonuses and carried interest are more limited.

Base salaries + bonuses in PE in Europe according to the grade and type of fund investment. (Heidrick & Struggles)
Conclusion
The analyses indicate that comparing salaries across investment funds is a complex task due to differences in investment strategies, IRR, ticket sizes, and geographical location. Therefore, establishing benchmarks for Private Equity compensation is tricky. Nonetheless, a trend emerges when comparing European and North American Private Equity salaries. In general, US Private Equity salaries are higher than European ones, as US funds typically lead the sector and thus offer more attractive compensation packages, as shown in this last chart which compares salaries in the UK (the highest in Europe) and the US.

Base salaries + PE bonuses in the UK and the US by grade (€k). (Heidrick & Struggles)
Beyond this macroscopic analysis, market practices observed in terms of analyst compensation, show fixed salaries of around €50k to €55k in France. Bonuses generally vary between €10k and €20k and it is often necessary to wait for at least the rank of associate to claim the first percentages of carried interest. In addition to carried interest, and as detailed above, fixed salary increases remain significant at the beginning of the career.
Find out more about our private Equity training program
HR, accounting, corporate finance, valuation, modeling, structuring, etc.
Excel cases and questions from PE interviews