Become the best prepared candidate in Corporate Finance
Ace your Private Equity, M&A, Leveraged Finance, and TS interviews
Our Finance training programs: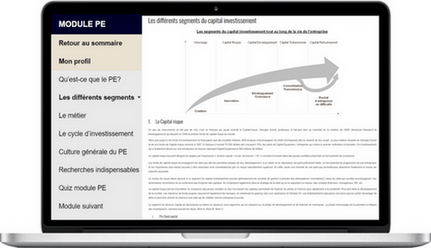 With this tailored training, uncover the interview questions, tips, and techniques used by those working and hiring in Private Equity.

A comprehensive course in Transaction Services, Restructuring and Valuation to break into the most prestigious consulting firms.

Focus on investment banking careers with this course that blends technical knowledge and process overviews in M&A and Leveraged Finance.

Interested in multiple finance jobs? Sign up for the full package to access all modules in PE, M&A/Leveraged Finance, TS, Valuation, etc.
What do members of our finance courses think about Invest Prep?

Guillaume Dagorn
Analyste 2 en Transaction Services chez KPMG
"High-quality training due to the diversity and quality of the content. Most of the major transaction challenges are explained. Besides, the technical cases are very close to what we encounter during the interview process. I highly recommend it!"

President of the Kedge BS finance association:
"A highly enriching training! The concepts are dense but clearly explained with a great deal of pedagogy."
Attendees of our finance training programs have joined their teams. Are you ready to achieve similar success?


Invest Prep is a finance training organization founded by Yassine Rochd, a former Private Equity Associate at Bpifrance and a former Senior Consultant in Valuation and Financial Modeling within EY's Transaction Advisory Services department in Paris.
Invest Prep's goal is to support you in the success of your interviews for some of the most prestigious and sought-after jobs in corporate finance. To achieve this, we have collected the advice and experiences of dozens of finance professionals, including Headhunters, Analysts, Associates, Directors and Partners in Transaction Services, investment banking and Private Equity among others.
They wrote articles about us:

Frequently Asked Questions
At Invest Prep, we also have a finance blog:
Here are two examples of articles from our blog. You can find all of our articles by visiting our blog page.